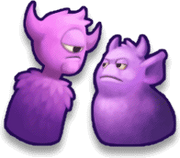 | | | |
| --- | --- | --- |
| " | Assemble your squad of musical Monsters and battle your way to the top Tier and beyond in the prestigious Champions' Guild! | " |
Versus Challenge
At the start of each challenge, you begin at tier 10. Each tier has a number of stars to earn. Every time you win a versus battle, you earn a star on your tier; however, if you win a versus battle and won the previous battle as well, you will earn two stars on your tier as a bonus. If you get all the stars on a tier, you go to the next tier. If you get to tier 1, you get the tier 1 reward on the end of the tournament, and advance to the Champions' Guild.
Players fight with another player's team of Monsters, which a computer then uses to play against you. You are not actually battling another player in real time.
Players have 5 battles before they undergo a cooldown of up to 24 hours. This timer always resets on 00:00 UTC regardless of which timezone the player currently resides on and regardless of daylight savings conditions.
All Versus challenges begin Friday at 19:00 UTC, as of September 2021 - that's 12pm Pacific Daylight Time, or 9pm Central European Summer Time. Exact timing will be different as daylight saving / summer time ends.
Versus Mode is unlocked after beating Three's a Crowd.
List of current Versus Challenges
Versus Challenge
Monster Reward
Requirements
Beds available
Monster Slots
Rewards
Trophy
Mammalian Maestros
Single-Element Monsters
3
3
1,500
700
100
2
4
1
Sticky Wicket
Earth-Element Monsters
7
3
1,400
700
100
6
1
1
Drum Circle
Double-Element Monsters
4
3
1,500
700
600
2
1
1
Spa Day
Riff
7
3
1,500
700
600
2
1
1
Tenacious Key
Air-Element Monsters
6
3
1,500
1,700
100
2
1
1
Dribble Alliance
Triple-Element Monsters
9
3
1,500
700
100
6
1
1
Marine Melodists
Water Island Monsters
7
2
1,500
700
100
2
4
1
Them Apples
Oaktopus
8
3
5,500
700
100
2
1
2
Vegetal Virtuosos
Plant-Element Monsters
6
3
1,500
700
100
2
4
1
Over the Toupée
Cold Island Monsters
9
3
1,500
1,200
600
2
1
1
Champions' Guild
See Champions' Guild.
Strategy
Because the set of opponents is unknown before a Versus Battle begins, there is no specific strategy to picking the Monsters to play with based on the opponents' set of Monsters.
However, some observations have been made with regard to classes of Monsters and the matchmaking in Versus:
A single high-Level low-Element Monster (such as a Level 20 Tweedle) will often be matched against lower-Level set of Monsters.

Even if the opponent has 3 Monsters in their set, they are so low level that moves against them will often result in each being dispatched with just 1 move, while the moves made against you do very little damage.
In the less frequent case where your Monster is matched against a similar one (such as another level 20 Tweedle), you still are likely to win as you always make the first move.

Seasonal Monsters, when they can be picked, tend to have good Battle statistics in almost any scenario. This is because they have the power of a triple elemental, but the matchmaking system treats them as single-element monsters, so it will match you against teams of weak monsters which your seasonal can then dispatch quickly.
Notes
Versus did not release with The Colossingum itself, releasing on December 4th, 2020

From the release of The Colossingum up until Rare Kayna's release, Versus was marked "Coming Soon".
On November 25th, 2020, the same day Rare Kayna was released, the "Coming Soon" text was changed to "Coming very soon".
On November 30th, 2020, the "Coming very soon" text was changed to "Starts Friday".
On December 4th, 2020, the "Starts Friday" text was changed to "Locked", and became available just hours later.

Trying to leave a match will count as a defeat or failure, unlike normal Quests or Friendly Matches, although the defeat sound can be skipped by doing the Force Close trick. The defeat noise sounds like The Lick.
Unlike in quest battles, the computer in Versus mode can swap monsters. The computer will usually swap so that the monster with the highest amount of stamina is active.
On the Spa Day challenge between December 25th 2020 to January 1st 2021, making a new match automatically unequips all monsters except the first highest level Riff. The same applies to the January 22nd to 29th 2021 challenge "Them Apples", except for the first highest level Oaktopus.