Tropical Slime is the third Juicer item and overall the 10th item to be unlocked in the game, as well as Slime, Sugar, and Cookie. Its market price is 762 - 1270

, and unlocks at level 11.
Description
The Crafting Item Tropical Slime is a half coconut with a sort of green juice, alongside a quarter apple, a drinks umbrella, ice cubes, and a drinking straw of alternating red and white.
Uses
There are no Crafting Items that requires Tropical Slime. However, Tropical Slimes can be fed to monsters or given to the Skyship.
Crafting
Tropical Slimes are crafted with 1

Slime, 1

Coconut, 2

Apple Juice, and 1

Ice.
Sellablility
Due to Tropical Slimes not appearing much in the Market and mostly already sold, if someone put a Tropical Slime in their Market, they would wait a little and before they know it, they have Coins ready to collect.
Skyship Requirements
If Tropical Slime is found in the Skyship as an order, either 1 or 2 Tropical Slimes would be needed per order meaning that you would need 3 or 6 Tropical Slimes because you have 3 orders of 1 or 2 Tropical Slimes.
Strategy
Unless you can make lots of Slime via a lot of sending monsters in the Wondermine, it is not recommended to manufacture too many Tropical Slimes, as a minimum of 1 hour per Slime is required for manufacture (as in using lots of single-element monster sendings and getting very lucky to get almost all Slimes received per sending). As well as this, don't consume too many Slimes because you may end up with the Skyship asking for many Slimes (unless you don't want to use the Skyship).
If you aren't interested in the Skyship but want to utilise the profit from Slime, then Tropical Slime makes a good Crafting Item to craft, since you gain much a profit from the raw items (2 Apple Juice = approx. 600 coins, Coconut = 34 coins, Ice = 105 coins, Slime = approx. 220 coins; Tropical Slime profit = approx. 300 coins), and Tropical Slime won't consume as much time as other Slime Crafting Items like Cough Syrup or Slingshot (and plus, most players may not have unlocked Slingshot yet).
Notes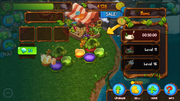 This is the first Crafting Item to require a Wondermine-exclusive Crafting Item.
This is the first quaternary Crafting Item encountered in the game.
Community content is available under
CC-BY-SA
unless otherwise noted.