Moving to a new home.
The following article may be deleted soon.
This could be because it should belong somewhere else, or there is no evidence of this coming in the near future.
Tribes are a new feature introduced in Version 1.3.5. They are a group of players that each contribute to their Tribal Island. It is necessary to have a tribe to access Tribal Island. They can contain up to 30 members, meaning a single island can have all natural monsters on it.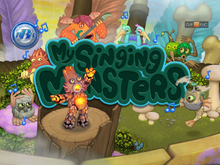 Members
Every member joining a tribe can select a monster they have on any natural island (Excluding Ethereals, Rares, Seasonal Monsters, Legendary Monsters and Supernatural Monsters) to represent themselves on the island. Their monster is placed randomly, and only the Tribe Chief can interact with the monsters. This prevents the monster owner from moving, muting, or removing it. The monster the member selects will have the players name instead of a randomly given name. The player can feed the monster currency (ie. Shards, Coins) or food, without a limit, to increase the island level. Members can leave their tribe or get kicked out.
Chiefs
A Chief is the leader of a tribe. They can interact with the other members monsters by muting or moving their monster. The Chief cannot feed others monsters. They own the entire island, and can name it upon creation. Chiefs cannot leave their island without making another member a chief first. Although it seems impossible to leave your one man tribe from here, try to restart the game before trying to leave the empty tribe, that might be enough, otherwise you can follow the steps below to get out of your tribe.
Log out of your game through the options menu. Click "Change User" and press one of the 3 login methods you haven't used to make a new account. It may take a while, but you'll eventually unlock tribal island, and be able to join your main account's tribe. Accept the request on your main account, leave and promote your second account, and now you're free to join other tribes!
Tribe Island
Main Article: Tribal Island
Each Tribe has an island that every member can contribute to by feeding monsters to increase their island's level. By contributing to the island, the tribe can increase Starpower, free Kayna the Fire Monster, and complete goals which reset weekly along with the monsters level. Starpower can be used in the StarShop for buying rare monsters and exclusive decorations.
Notes
A "tribe" can also mean internet slang for "an unofficial community of people who share a common interest". This may be true here in My Singing Monsters, because no tribe in this game is absolutely official, and some tribes may share different interests.
It used to be possible to feed monsters with diamonds. This feature was removed in an update.
Contributing to no levels (other than Level 0 or Level 1) will gain the player no Starpower or diamonds, but even idle players can still earn their Starpower and diamonds, for as long as they come back each week (just don't try this out, as it may upset the tribe leader).
Community content is available under
CC-BY-SA
unless otherwise noted.