Time has been warped.
This article is about something expected to come in the future.
The details below are not in any way final, and can change at any time.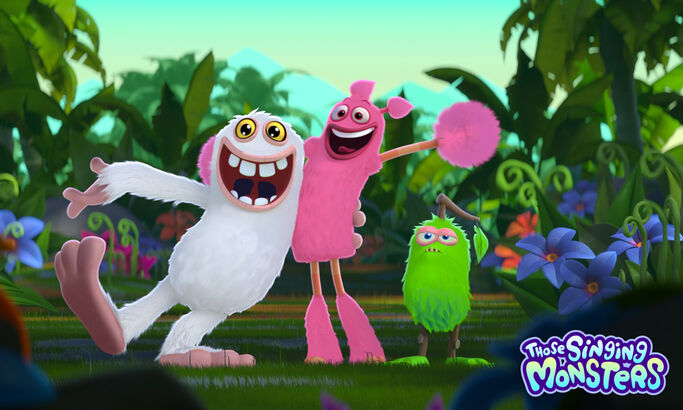 In July 2017, it was announced that an official My Singing Monsters cartoon would be done by Wind Sun Sky Entertainment and Big Blue Bubble, to be distributed by Skybound.  BBB had a booth at the Las Vegas Licensing Expo in May 2018, and tweeted about the upcoming cartoon.  The show's name was tentatively announced to be Those Singing Monsters. The project will debut at the 2019 MIPJunior trade show.
Synopsis/Plot
So far, there has been no confirmed synopsis/plot for Those Singing Monsters.
Art Style
From the concept art, the art style was originally going to look very different from the My Singing Monsters, and My Singing Monsters: Dawn of Fire games. The "splash" image above, shows Boskus and PomPom.  In My Singing Monsters, the style is somewhat realistic,  Dawn of Fire goes for a more detailed style. They both look similar body-wise. According to the image, TSM's original art goes for a more cartoony style, as if it was caricatures for each Monster. The art also shows some fish-like or dog-like creature that isn't in either game. However, on October 10, 2019, an image was released showing Those Singing Monsters' current style. The show is going to be a CG animated series, with the designs looking much more faithful to the original games, whilst being slightly cartoonized.
In May 2019, Wind Sun Sky revealed the first look of the series in a video. The new characters in the upcoming series were also revealed including Mammott, Furcorn and a female Rare Sox monster. The enviroments the characters are in seem to be a village and a forest.
On October 10, 2019, Wind Sun Sky revealed the brand new look of the series for the future. It had a 3D animation style and the main characters were revealed to be PomPom, Mammott, and Furcorn, who are also the mascots of the My Singing Monsters game.
Monsters In The Games VS. Monsters In This Show
We haven't seen very many of the Monsters in this show, in the concept art, most of the ones that we have seen, have some major differences in the show compared to what they look like in-game. In the show, they look more faithful to the game, but more cartoonized.
Boskus
- Game: stands on all fours and has no arms.
- Concept Art: stands upright on two feet and uses its front legs and feet as arms and hands.
- Show: No image has been shown of Boskus' current design.
PomPom
- Game: has a pink body, pink pompoms, pink ponytails, and pink feet.
- Concept Art: has a pink body, but the pompoms, ponytails, and feet are purple.
- Show: Similar to the game, but slightly modified features, such as shoulders, and a more exaggerated face.
Furcorn
- Game: has two short legs and two feet, and no arms.
- Concept Art: has two short legs and two feet, but also has twig-like arms.
- Show: Similar to the game, but looks a little bigger and a smaller face.
Rare Sox
- Game: appears more masculine and has silver circles on its tail. The game's Rare Sox stands on four feet like a real-life fox.
- Concept Art: appears very feminine and has golden circles on its tail, also wears purple lipstick. The show's Rare Sox stands bipedal and has a sleeker body build.
- Show: No image has been released of Rare Sox's current design.
Mammott
- Game: Has a white body with arms, legs, and a face.
- Concept Art: Similar to the game, except the eyes are white, and mouth is bigger.
- Show: Same as the game.
Relation To The Games
Those Singing Monsters isn't set in the My Singing Monsters world, but it shares similar elements to the games. Those Singing Monsters has a "little more creative freedom" (according to Monster-Handler Matt). It has a different premise and isn't the same as what people are familiar with, lending itself to lots of humorous situations and interactions between monsters.
Release Date
In an interview in June 2018, Damir Slogar (CEO of Big Blue Bubble), said that Those Singing Monsters was in production and expected to be released sometime in 2019.
As of early 2020, no additional information of a release date has been announced.
Streaming Platform
Those Singing Monsters will be airing on Television. Big Blue Bubble is currently looking into making it available on different networks, as revealed by their comment on MSMPokeGamer's video.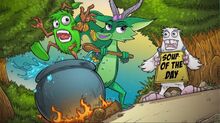 Community content is available under
CC-BY-SA
unless otherwise noted.