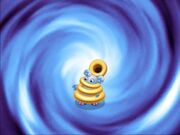 You use the Teleporter to teleport monsters to an Outer Island. Like in the original game, doing so requires the monster to have a specific level, and the places to where it can go depend on its species.  
Islands
This table lists the monsters that are part of Dawn of Fire, and shows which Outer Islands they can be Teleported to.
Differences from the original game
It costs coins to teleport a monster. In the original game, teleportation was free.
it takes time (minutes or hours) to teleport a monster. It used to be near-instantaneous, though in the original game monsters had to be in a Nursery to incubate (in this game, the Nursery is not required).
Teleportation is required for a baby monster to age to its adult form. In MSM, there was no "baby" form to begin with;

In fact, teleported monsters in MSM do the opposite of aging: they revert back to eggs, and reset their levels.

After the Monster is Teleported, the player is awarded with Diamonds. In MSM, there is no reward (at least in the form of Currency).
Notes
There are no Quint-Element Monsters on Cave Island .
Only one monster, the PomPom, can be teleported to three islands.
Cave Island has the lowest number of teleportable Monsters, while Space Island has the highest.
If you teleport a monster on an island; You recieve a portrait avatar.