This is the main article for StarShop. For the category, see Category:StarShop.
The StarShop is a place where the player can go to purchase Rare Monsters and exclusive decorations with Starpower. It was introduced in the 1.3.6 update.
Rare Monsters
Availability
Different rare monsters are available for purchase at different times. Check news to find out if any are currently available. The one exception is the Rare Wubbox which is available all the time. There is also Rare fire hybrids you can purchase but you can't purchase Rare Magicals yet in the StarShop.
Cost
Rare Monster
Cost
Discounted
(first 48h)
Rare Wubbox
1
N/A
Natural Single Element Rare
1,000
500
Fire Single Element Rare
1,500
750
Natural Double Element Rare
1,500
750
Fire Double Element Rare
2,500
1,250
Natural Triple Element Rare
2,500
1,250
Fire Triple Element Rare
5,000
2,500
Natural Quad Element Rare
5,000
2,500
Fire Quad Element Rare
7,500
3,750
Monsters can only be purchased for an island if they can exist on that island. For example, you can buy a Rare Noggin on Plant Island, but not on Cold Island. Monsters bought from the StarShop are eggs and must be incubated just like normal eggs before they can be placed on an island. The Nursery must be empty to purchase an egg.
There also used to be frequent "Rares Duet" offers where two Rares of opposite elements in the StarShop are on sale, which lasts a week. When such Rares are offered they become available for that duration (or discounted by half in pre-2.0.0.).
Unfortunately, since one day after the 2.0.0 update, released in September 2016, the Rares will only be in the StarShop when there are certain limited events, or only available on a rotational basis, making the Rares more "rare". However, due to the multitude of complaints by the My Singing Monsters fans, it had been announced that the Rares would become all-year-round available from 23rd September 2016 to the end of September, at the time also decreasing their cost by 75%. Also fortunately, in the same post they announce rotational basis of a Rares Duet every Wednesday (in Canadian Time) from October 5th 2016, to balance against the "Rare Monster crisis" which would otherwise mean no Rares after September 2016.
From November 2017, the Rares Duets discontinued. This is replaced with Rares Solos in 5th February 2018, starting with Rare Furcorn. Each Rare will be available for one week, every two weeks. It will be 50% discounted in the first 48 hours. On 19th February 2018, the Rare Entbrat was released to the StarShop for the week, but now the cost of purchasing Rare Naturals through the StarShop has doubled, making them cost exactly the same amount for the first 48 hours of the release.
Decorations
The following decorations are available from the StarShop. These are available all-year and all-day.
| Decoration | Image | Cost | Description |
| --- | --- | --- | --- |
| Thumpies Totem, Too | | 200 | The magic of the trees that connects the realm of Thingia with the Thumpieverse is also at the root of their shared relationship with the Monster World. That's how we end up with artifacts like this other Thumpies Totem, which tumbled across dimensions to arrive here. While prior incarnations featured other Thumpies, this one celebrates Izit, Tawooo, and Anyanka. |
| Hammock | | 200 | Don't be fooled - this Decoration won't add an extra Bed to your Island - that's the job of Castles and Hotels.  Still, it's perfect for a lazy snooze. |
| Star Rocks | | 300 | There was some controversy as to what these floating relics should be called. One of the suggestions that was 'floated' around was Rockstars, since they positively radiate Starpower energy. However, Shugabush of Plant Island tells us that means something different where it comes from, so the monsters went with Star Rocks instead. |
| Bingo Bango Bongos | | 300 | Combine a tropical parasol with some stout drums, and bingo bango bongo, you've got Bingo Bango Bongos. |
| Smunkit | | 350 | A Smunkit, the abbreviated form of a Smunkin-drumkit, is the result of raising Smunkins to enormous size and then capitalizing on their percussive potential. |
| Striking Bulbs | | 600 | Sure, the name 'Striking Bulbs' could refer to the fact that they're pretty to look at, but those in the know insist it's a reference to their propensity for striking conga drums. |
| Freed Thing | | 500 | Through the combined efforts and resourcefulness of the Singing Monsters, one of the Ambered Things has been set loose! Flutter relates that the Realm of Thingia, from which it originates, is in fact older than the Monster World, but that it was equally affected by the same events that trapped Kayna, because of the binding magic of the trees. Whatever that means. |
| Mount Knottshurr | | 750 | Fashioned in the likeness of the mythical Mountain Morsel, Mount Knottshurr is made up of Bubblerite shavings held together with slobber paste. Despite its artificial origin, it seems to have taken on a life of its own. What else could you expect in the magical Monster World? |
| Innertuba | | 750 | The Innertuba's tread-like texture suggests it may have one time been part of a wheel, but we're quite pleased with the new form it's taken. |
| Elmenco Stump | | 800 | The Elmenco Tree grows to a short height, then part of the trunk falls away to reveal a beautiful guitar-shaped carving on the inside.  It inspires dancing of great emotional intensity for all who pluck its strings. |
| Swurlee Tree | | 900 | The Swurlee Tree's great drooping palms resemble candy swirls.  The nuts it drops are rumored to be delicious, but they always dissolve before they hit the ground, so no one's ever sampled them. |
| Sweetstreamz Tree | | 1000 | Sweetstreamz are made of this: fluffy floating foliage, supendous streamers of the softest blue, and gleaming stars that dangle and twinkle.  Who are we to disagree? |
| PU System | | 1000 | Contrary to the traditional PA system, the PU system dispenses odors instead of messages,  The inventors claim that there's a huge market for scent-tech... but we're a little apprehensive. |
| Spatial Sapling | | 1200 | This is what happens when pollen from outer Space germinates in Natural soil.  There's speculation that the giant glowing pod is actually an egg sack, but no one is brave enough to poke it. |
| Boss Monument | | 1,250 | This superb statue celebrates the five Quad-element Monsters that call the Natural Islands home. Nicknamed 'The Bosses', these dynamic figures serve as role models to the other monsters, and epitomize the cooperative power of harmony. |
| Ockulo Tree | | 1750 | This type of tree springs into existence after a Riff has molted and the feathers interlace with local root networks.  Sometimes when it sways in the breeze, it makes a faint guitar shredding sound, prompting Monsters to comment: "Ockulo's Riffed." |
| The Thunker | | 2000 | Ahh, nothing like fine art!  The Thunker depicts a Monster engaged in Thunking, the act of thinking Thunks, profound thinks that are never spoken aloud.  And it even has a pecking bird in the ancient "Art Monstreau" style - divine! |
| Cold Globe | | 2000 | Why does everyone insist on calling this Decoration a Snow Globe?  It's not like the Element is called Snow, it's called Cold.  We're very insistent on this point. |
| | | 3,000 | Givutawai, givutawai, givutawai now! This Tree is often the brunt of bogus givaways and suspicious scams... e.g. "You're the one millionth visitor to this Island! Claim prize now!" But all it really wants is to share its tiny trinkets, which are a bit more offbeat that [sic] their bright packaging might suggest. |
Rare Duet History
Main article: Rares Duets
From October 2016 to November 15th 2017, Rares Duets appeared every week for a full week. It started every Wednesday, on precisely 19:00 UTC (except for the first week, which was every Tuesday). They provided two Rares of opposite elements and make them available in the StarShop for that week.
For more info, see Rares Duets.
Rare Solo History
See Breeding Availability#StarShop, for availability in StarShop from 2019 and later.
Rare Solos supersede Rare Duets after almost three months of no StarShop deals at all. Instead of two Rares of opposite elements releasing weekly, one Rare is re-released and last for 5 days. They later doubled the price of the Rares.
5th February 2018 to 10th February 2018 - Rare Furcorn
19th February 2018 to 22th February 2018 - Rare Entbrat
5th March 2018 to 8th March 2018 - Rare Clamble
19th March 2018 to 22th March 2018 - Rare Potbelly
2th April 2018 to 5th April 2018 - Rare Cybop
13th April 2018 to 18th April 2018 - Rare Deedge
27th April 2018 to 3nd May 2018 - Rare Reedling
13th May 2018 to 18th May 2018 - Rare Tweedle
27th May 2018 to 2nd June 2018- Rare Drumpler
11th June 2018 to 16th June 2018 - Rare Shellbeat
25th June 2018 to 30th June 2018 - Rare T-Rox
10th July 2018 to 16th July 2018 - Rare PomPom
23th July 2018 to 27th July 2018 - Rare Pango
5th August 2018 to 9th August 2018 - Rare Noggin
19th August 2018 to 24th August 2018 - Rare Scups
10th to 14th September 2018 - Rare Mammott, Potbelly, Pango, Fwog, Oaktopus, Pummel, Thumpies, PomPom, Riff, Shellbeat (at full price)
17th to 21st September 2018 - Rare Toe Jammer, Shrubb, Bowgart, Congle, Cybop, Drumpler, T-Rox, Spunge, Dandidoo, Quarrister (at full price)
24th to 28th September 2018 - Rare Noggin, Tweedle, Furcorn, Maw, Quibble, Clamble, Scups, Reedling, Entbrat, Deedge (at full price)
Note: Partial missing information between October 2018 to December 2018
6th to 11th November 2018 - Rare Clamble
20th to 25th November 2018 - Rare Quarrister
4th to 9th December 2018 - Rare Pango
Notes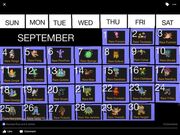 In version 2.3.4, the StarShop was expanded to be on Fire Haven, Fire Oasis, and Psychic Island. In version 2.3.5, the StarShop was expanded further to be on Faerie Island. The Star Rocks, however, remained exclusive to the Natural Islands until the Natural Rares and Epics were added to the Magical Islands.
In the description of the 1.3.6 update, "StarShop" is written with bicapitalisation, or "CamelCase".
Some of decorations are very similar to PlayStation Vita exclusive decorations. Specifically, the Thumpies Totem, Too resembles the Thumpies Totem and Mount Knottshurr resembles the Mountain Morsel. The Thunker is actually a decoration originally unused in My Singing Monsters' prequel, My Singing Monsters: Dawn of Fire.
Formerly the Rares Duets from October 2016 to present started every Tuesday, but changed due a random mishap that had caused Starpower to arrive too late, causing Big Blue Bubble to extend the first Rares Duet.
The original StarShop decorations are: Thumpies Totem, Too, Star Rocks, Freed Thing, Mount Knottshurr, and Boss Monument in order of cheapest to most expensive.
StarShop decorations that were added in Version 2.2.2 are: Hammock, Bingo Bango Bongos, Smunkit, Striking Bulbs, Innertuba, Elmenco Stump, Swurlee Tree, Sweetstreamz Tree, PU System, Spatial Sapling, Ockulo Tree, The Thunker, Cold Globe, and Givutawai Tree, in order of cheapest to most expensive.
The audio clip for tapping on a Cold Globe was in the update before it was added.
At one point, the StarShop was accidentally made accessible on The Colossingum through the Mailbox.