Baby Bio:
| | | |
| --- | --- | --- |
| " | The compact Sooza blows its horn with enormous frequency and force. Being literally wrapped up in itself is somewhat cumbersome, but the immature Sooza still manages enthusiastic foot tapping and swaying. | " |
Adult Bio:
| | | |
| --- | --- | --- |
| " | The height advantage is certainly apparent when the Sooza comes of age! This statuesque Monster really stands out in a crowd. One may notice that it shares distinct traits with a few other species. | " |
Prismatic Bio:
| | | |
| --- | --- | --- |
| " | This Sooza returned from the Prism Gate forever changed! This once-recognizable cousin of the PomPom toting a hefty metallic horn has been altered at the molecular level to become a hirsute entity constricted by a slack-jawed reptile - extraordinary! | " |
Appearance
Sooza is a sky blue monster that resembles a mature PomPom with purple hands and feet. It wears its lavender hair in small curly pigtails with tiny curly lavender bangs. The golden sousaphone it plays is coiled around its body, only allowing its hands, feet, and head to show.
As an adult, its limbs are longer, which its arms are purple and light purple. It shows its mouth which has blue lips.
When idle, it moves side to side, and almost about to fall to the ground and try to keep its balance.
On Space Island, it moves the same way PomPom moves when idle.
Prismatic Variants
Prismatic Soozas are messy and furry with different antennae or ears and varying amounts of eyes. The sousaphone of a Prismatic Sooza is an open-jawed monster with holes around.
Red: ...
Orange: ...
Yellow: ...
Green: ...
Blue: ...
Purple: ...
Song
Instrument: Sousaphone (Continent), French Horn/Trombone (First part on Continent and Space Island)
The Sooza plays its golden sousaphone, mainly producing chords of upper and lower brass sections. However, during the part where the Tweedle would sing, the Sooza plays significantly lower notes, sounding more like an actual sousaphone.
As an adult, the Sooza plays the melody of Space Island, which is shared by the Toe Jammer, Stogg, and Rootitoot.
Breeding
A Sooza can be bred with a combination of Plant, Cold, and Fire. Possible combinations include:
Feeding Monsters
The Sooza will request food and/or non-food items that are the products of Structures. If you cannot give the monster the food or items it requires, you can click the New Order button. After a 15 minute wait, it will ask for a new combination of foods or other items.
Rewards
When given the wanted foods or items, like any monster, it will reward you coins.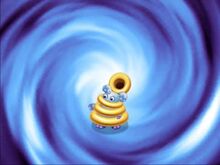 Teleportation
Sooza can be teleported to Space Island when fed to Level 10 for a reward of 15 diamonds.
Prismatic
During limited time events when Prism Gate is open and Sooza is available for transformation on Outer Islands, an adult Sooza can be transformed into one of six different colored variants.
Color
Base
Chance
Prisment
Bonus
Time
(hh:ss)
Red
20%
+1% per
16:00
Orange
2%
+1% per
20:00
Yellow
15%
+1% per
18:00
Green
8%
+1% per
19:00
Blue
25%
+1% per
15:00
Purple
30%
+1% per
14:00
Name Origin
The name Sooza comes from the word sousaphone, a brass instrument which this monster plays. (Extra Life 2018 stream, Part 2, 06:06:35)
Notes
As noted in its adult description, the Sooza is very similar to the PomPom and Hoola.

Also, Rare PomPom, Rare Hoola, Epic PomPom, Epic Hoola, and Rooba.

Despite having a similar appearance to PomPoms as adults, they look noticeably different as babies.
In the code, Sooza is called "Tubahorn".
It was the last fire 3 element to be ported over to the original game.
It is the only Pomily member (other than PomPom itself) to be in Dawn of Fire, due to the complete lack of magical elements, Rares, Epics, or seasonal celebrations.
Sooza originally wasn't going to be a Pomily member at all. (MSM Live Episode 107, 14:53)
There was a bug where Yellow Prismatic Sooza's reptile's arm was colored yellow, instead of blue, when idle. This was later fixed.