Baby Bio:
| | | |
| --- | --- | --- |
| " | Forever in the mood for some friendly competition, Repatillo pups like to test their strength in Monster arm-wrestling matches. When they are inevitably victorious, it's in the triumphant beating of their chest that they hone their musical calling. | " |
Adult Bio:
| | | |
| --- | --- | --- |
| " | Just because they are cold-blooded doesn't mean they are cold of heart! It's often said that a Repatillo hug can cheer up even the saddest monster. All those arms give quite the squeeze; and equally ideal for playing masterful compositions on their hard plates! | " |
Description
Repatillo is a monster in My Singing Monsters: Dawn of Fire. It was released in the 1.3.0 update.
Repatillo is a purple bug-like monster with four arms.It has four legs each with a toenail and its body is covered in rock. It has plates on its body.
An adult Repatillo is about the size of a Sooza and a PomPom. It adds two more arms; its horns are longer; its body is bigger and its tail is longer.
Song
Instrument: Synthesized drum kit
It plays by tapping on its plates to make a rapid electronic beat similar to the Ziggurab. It also makes use of additional sounds, such as an electric crash cymbal and a cowbell sample.
On the Continent, It plays its part when the Thrumble (or the Flowah) sings.
On the Space Island, it plays its part when the Furcorn (or the Potbelly) sings.
Breeding
The Repatillo can be bred with the elements Earth, Plant and Fire. The usable combinations are:
Teleportation
The Repatillo can be teleported to Space Island at level 10 with a reward of 4 diamonds. Teleport time for Repatillo is 20 hours.
Name Origin
Its name seems to be a portmanteau of repetition, reptile, and armadillo.
Notes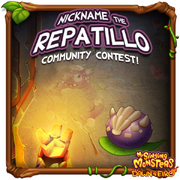 The ten nicknames given to the the Repatillo from the community contest are Staccato, Picadillo, Zilla, Purplejam, Pikoliz, Shelldon, Rupert, Scalar, Armin, and Rock-N-Raptor. The contest ended on Thursday 26th November 2015, Noon Eastern Time. The results are here. 2 or 3 names were part piccolo.
On the side of the teaser, something like the end of a Shellbeat tail can be seen, referring to the addition of the Shellbeat in Dawn of Fire.
It is the 8th monster to play a full drum kit. (kick drum, snare, and hi-hat) The others being the Ziggurab, Shellbeat, Rare Shellbeat, Deedge, Rare Deedge, Dwumrohl, Periscorp, Syncopite and Shugabeats.
The Repatillo previously was called a Firedrums. Link here. Firedrums is its name in the code.
Its name and appearance is a reference to an armadillo.
Community content is available under
CC-BY-SA
unless otherwise noted.