Baby Bio:
| | | |
| --- | --- | --- |
| " | Forever in the mood for some friendly competition, Repatillo pups like to test their strength in Monster arm-wrestling matches. When they are inevitably victorious, it's in the triumphant beating of their chest that they hone their musical calling. | " |
Adult Bio:
| | | |
| --- | --- | --- |
| " | Just because they are cold-blooded doesn't mean they are cold of heart! It's often said that a Repatillo hug can cheer up even the saddest monster. All those arms give quite the squeeze; and equally ideal for playing masterful compositions on their hard plates! | " |
Prismatic Bio:
| | | |
| --- | --- | --- |
| " | This Repatillo returned from the Prism Gate forever changed! What was once a predominantly reptilian body with single-toed claws has been replaced at the molecular level with a caprine countenance and hooved hands - extraordinary! | " |
Description
Repatillo is a monster in My Singing Monsters: Dawn of Fire. It was released in the 1.3.0 update.
Repatillo is a purple reptile/armadillo monster with four arms. It has four legs each with a toenail and its body is covered in rock. It also has plates on its body.
An adult Repatillo is about the size of a Sooza or a PomPom . It adds two more arms; its horns are longer; its body is bigger and its tail is longer.
Prismatic Variants
Prismatic Repatillos... [describe]
Red: Is red with yellow underbelly and yellow horns. It also has three yellow eyes, a chipped ear, and a cow tail.
Orange: Is orange with green underbelly. It also has goat horns, two green eyes, and a dog-like tail.
Yellow: Is yellow with blue underbelly. It also has three round blue eyes with pupils and a cow tail.
Green: Is green with purple underbelly and purple horns. It also has two wide-set purple eyes, droopy ears, and a devil-like tail.
Blue: Is blue with red underbelly and horns. It also has two red eyes slanted upward, a red earring on one of its ears, red spots on its legs, and a cow tail. (the red spots are not visible in-game)
Purple: Is purple with orange underbelly. It also has two orange eyes on top of sticks on its head, whiskers on its face, orange stripes on its legs, and a bushy tail. (the orange stripes are not visible in-game)
Song
Instrument: Synthesized drum kit
It plays by tapping on its plates to make a rapid electronic beat similar to the Ziggurab. It also makes use of additional sounds, such as an electric crash cymbal and a cowbell sample.
On the Continent, It plays its part when the Thrumble (or the Flowah) sings.
On the Space Island, it plays its part when the Furcorn (or the Potbelly) sings.
Breeding
Repatillo can be bred with the combination of Plant, Earth, and Fire. The possible combinations include:
Teleportation
The Repatillo can be teleported to Space Island at level 10 with a reward of 4 diamonds. Teleport time for Repatillo is 20 hours.
Prismatic
During limited time events when Prism Gate is open and Repatillo is available for transformation on Outer Islands, an adult Repatillo can be transformed into one of six different colored variants.
Color
Base
Chance
Prisment
Bonus
Time
(hh:ss)
Red
20%
+1% per
16:00
Orange
25%
+1% per
15:00
Yellow
30%
+1% per
14:00
Green
2%
+1% per
20:00
Blue
8%
+1% per
19:00
Purple
15%
+1% per
18:00
Name Origin
Its name seems to be a portmanteau of repetition, reptile, and armadillo.
Notes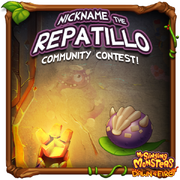 The ten nicknames given to the the Repatillo from the community contest are Staccato, Picadillo, Zilla, Purplejam, Pikoliz, Shelldon, Rupert, Scalar, Armin, and Rock-N-Raptor. The contest ended on Thursday 26th November 2015, Noon Eastern Time. The results are here. 2 or 3 names were part piccolo.
On the side of the teaser, something like the end of a Shellbeat tail can be seen, referring to the addition of the Shellbeat in Dawn of Fire.
It is the 8th monster to play a full drum kit. (kick drum, snare, and hi-hat) The others being the Ziggurab, Shellbeat, Rare Shellbeat, Deedge, Rare Deedge, Dwumrohl, Periscorp, Syncopite and Shugabeats.
The Repatillo previously was called a Firedrums. Link here. Firedrums is its name in the code.
Its name and appearance is a reference to an armadillo.
Despite Prismatic Repatillos revolving around goats, the Purple Prismatic Repatillo resemble a raccoon more than it does with a goat.