Welcome
Welcome to the My Singing Monsters Wiki, the comprehensive resource regarding everything My Singing Monsters! This wiki is built and maintained by fans like you.
My Singing Monsters is a game franchise by Big Blue Bubble where you collect and breed Monsters that all sing and contribute to create a song. By building your collection of Monsters, you are able to purchase more Islands, which each have their own song and new Monsters to discover.
My Singing Monsters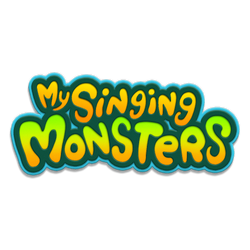 My Singing Monsters is the main game of the franchise. It has over 200 Monsters to collect and breed across 27 Islands, each with their own song. Each Island has its own set of Monsters or even new mechanics, such as starting a Tribe with your friends, training Monsters for battle, or composing your very own music.
Dawn of Fire
My Singing Monsters: Dawn of Fire is the prequel to the first game. This game introduces Fire as a new Natural element, which adds many new Monsters to discover. They start as young Monsters on the Continent and then grow up and learn a new song when teleported to the Outer Islands at a certain level. They level up with by crafting items that they request. There are also new ways to interact with other players by trading through the Market or aiding a friend with the Skyship.

Other Games
| | | |
| --- | --- | --- |
| | | |
| My Singing Monsters: Composer is a spin-off app available on Mobile devices that expands upon Composer Island from the main game. This app costs money, but does not have ads or in-app purchases, and can be used offline. It includes many features such as longer songs, an unlimited number of songs, easier editing, and new Monsters like the Dipsters, Ethereals, and Rare Monsters, each bringing their own unique sound. You can also share your songs with others that also have the app. | My Singing Monsters Playground is a party game available to purchase on consoles and PC. You can play with up to four people in couch co-op, or go solo with computer players. Compete with your friends in a mini-game marathon. There are a variety of mini-games that include free for all, where only one player can win, or 2v2, where you work with another player. Play in tournament mode, where you play multiple game back to back to see who gets the most points, or play in Free Play, where you can play any mini-game by itself. | My Singing Monsters: The Board Game is the first tabletop game in the franchise that is coming later this year. It is a worker placement style game that can be adapted based on difficulty and skill level, allowing players to add more mechanics in future games. In the game you collect Monster cards, which are placed on Island locations to earn element tokens, which fill up your music sheet card, which is turned in for coins needed to win the game. It was funded on Kickstarter in June 2021, and is set to come out in 2022. |
Did you know...
... that currency packs can be increased up to 100% of their original amount during sales?
Submit new facts!
If you see any obsolete or incorrect facts, or facts that need to be re-written, report it to admins.
Featured Article
The Month of the Mythical is a special event that is taking place all throughout June 2022. It started with the release of Monculus and has a community event to help design the Cold Island Mythical Read More...
Announcements
The new site theme and home page design are now implemented! Questions and feedback will be answered here.
Don't create wiki pages to advertise your Friend Code.  You may advertise your code on the Friend Codes page for the original game, the Friend Codes page for Dawn of Fire, in the Discussions, or in your blog.
Featured Videos
Month of the Mythical Announcement
 	 	   

My Singing Monsters Game Trailer
 	 	   

Community Blogs