"MSM:F" Or "My Singing Monsters: Fandemonium" is a live show made by Wind Sun Sky Entertainment in where Furcorn, Mammott and PomPom host it. Fandemonium was made as a way of interacting with the fans. The show is scheduled to have 8 episodes, starting March 12th, 2021 and ending with a grand finale episode on April 30th, 2021.
Categories
The categories will be in order according to the time of the episode
Every episode has revealed a new feature or monster for both the original game and Dawn of Fire.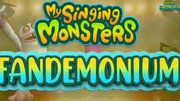 List of Episodes
Trivia
According to Mammott in Episode 3, in their personal opinion, they have 3 stomachs.

According to Mammott, once again, the "3 stomachs" are for the following:

One for cookies.
One for cupcakes.
One for dessert.

Furcorn references the concept art of Those Singing Monsters during Who's That Egg in episode 4.
In Episode 6, Mammot, PomPom and Furcorn disappeared as the show progressed, leaving the end of the episode with a cliffhanger and a mysterious "To be continued..." message before the credits.
In Episode 7 it is revealed that the monsters were stuck in a server cable. According to Monster-Handler Matt, it was due to a Rare Wubbox that had turned the wrong dial, overloading the processors. Reebro also made a brief appearance to help the monsters.
In Episode 8, it was announced that the new name for the Magical Sanctum titan was "Enchantler", submited by @pecanbegone, the Grand Prize Winner for the "A Titan by Any Other Name Community Contest". You can check this tweet for the runner-up winners.
The titular song, which also appeared in The Colossingum, has a BPM of 121.
Fandemonium was originally thought to be Those Singing Monsters before it was confirmed that the two were separate shows.