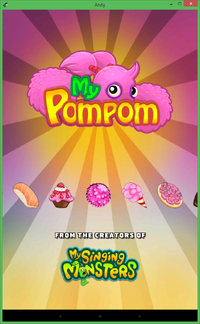 My PomPom is a game released by Big Blue Bubble. The gameplay is like My Mammott, except with slight differences. Examples include reactions that appear to suit how a cheerleader may react (for example, touching the PomPom's hands results in the monster getting angry over being touched).
Food in My PomPom is different from the food in My Mammott, to make all of the food items pink or red. (The PomPom's in-game description in MSM says that it eats only foods that are red.)  A pink cookie sprinkled with colorful sprinkles replaces the traditional chocolate-chip cookie; a strawberry dipped in chocolate replaces a stick of bread; a cotton candy on a stick replaces the traditional donut; a small cupcake in cupcake wrap replaces the cheesy pepperoni pizza slice; a sundae with pink icing, cream and a strawberry replaces the cranberry pie slice; while a tuna sushi replaces the large piece of chocolate cake.
The mini-game is played by tapping on each half of the device screen to toss a cheerleader's pompom from one bare hand to another. The pompom is juggled correctly if the pompom(s) is tapped when it is over one of the PomPom's hands. More points are earned through juggling multiple pompoms. Diamonds are can be earned in the mini-game by tossing a pompom with a diamond symbol on it. The game ends by dropping all pompoms.
Even the backgrounds are different: the starter island is Water Island with no decorations, Plant Island includes pink bows for decoration, Cold Island includes pink Christmas lights and a SnowPomPom, while Air Island features colored lanterns.
However, there are still some similarities, including a 4-hourly spin-the-wheel where prizes of diamonds can be won (however, these diamonds are not a premium currency). Diamonds are used to buy treats, which level up the monster, gaining access to new treats and new actions to choose from. There is also the option of exploring the real world and playing with the PomPom there.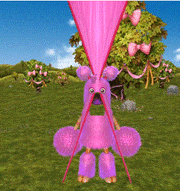 Gallery
Notes
The game states that the PomPom in My PomPom is female, however, in the game My Singing Monsters, PomPoms are gender-neutral.
The PomPom's plush toy is also referred as "she".
It appears that Water Island remained undecorated.
There is a strange bug that occurs when one tickles PomPom and interrupts her laughter with an earthquake by shaking the device. After you cause the earthquake, making her repeat anything will cause her mouth to glitch out.
Despite the fact that PomPoms' pompoms are stated to grow from it's hands in the first My Singing Monsters, it can still somehow take them off and juggle them.
Community content is available under
CC-BY-SA
unless otherwise noted.