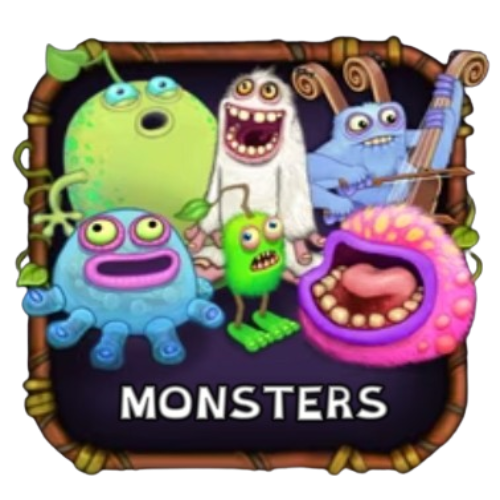 Monsters are the inhabitants and dominant creatures of the Monster World and the heart and foundation in My Singing Monsters. As of now, there are currently 304 known species of monsters to buy or breed, excluding the monsters exclusively in Dawn of Fire. Each of these creatures has distinctive voices or sounds that they use to contribute to the various songs found in the game. Once Monsters are collected, they can be muted and unmuted in order to create a unique mix. In addition, a Time Machine can be purchased to speed up or slow down the tempo, or a Recording Studio to change the voices of most types of Monsters entirely.

Every monster has the ability to produce Currency; most produce it in the form of Coins (

) or Shards (

), while few can produce it in the form of Diamonds (

), Treats (

), or Relics (

). The former ability can be magnified by the monster's Happiness, a special trait that varies with every monster species.
Classes
Throughout the Monster World, Monsters are divided into classes that categorize monsters based on similar qualities or characteristics. There are twelve classes across the Monster universe, including those found in My Singing Monsters' prequel, Dawn of Fire: Natural, Fire, Ethereal, Seasonal, Supernatural, Legendary, Celestials, Mythical, Magical, Rare, Epic, and Dipster. The full list of monsters is below, including which Islands they are available on.
Alternately, the Monsters available on a given island can be found on their respective island Pages: Plant Island (
), Cold Island (
), Air Island (
), Water Island (
), Earth Island (
), Fire Haven (
), Fire Oasis (
), Light Island (
), Psychic Island (
), Faerie Island (
), Bone Island (
), Magical Sanctum (
), Gold Island (
), Amber Island (
), Ethereal Island (
), Shugabush Island (
), Tribal Island (
), Wublin Island (
), Mirror Islands (

), Celestial Island (
), Seasonal Shanty (
), The Colossingum (
), and Composer Island (
).
My Singing Monsters is published in multiple languages. A table of translations can be found at Monster Translations.
The icons of each monster can be found on the Monster Icons page.
Natural Monsters
     Main Article: Natural Monsters
The most basic class of Monsters encountered in My Singing Monsters. Each of them is associated with one or more of the five base Elements: Earth (

), Cold (

), Water (

), Plant (

), and/or Air (

). Only four out of five of these elements will appear on the natural islands, with some exceptions depending on the island.
Fire Monsters
A class of Monsters associated with the element of Fire (
). Originally, the Fire element did not exist at all until the Tribal Island was added to the game, manifested by the elemental Kayna, who couldn't breed nor be bred, and was originally only thought to be a teaser for the prequel game, Dawn of Fire, where Fire was a Natural element. However, 2.2.4 sparked the release of Fire Haven, where Kayna was able to be bred with other Natural Elements allowing for the creation of 7 more monsters exclusive to Dawn of Fire. And then, in 2.3.0 Fire Oasis. Later, the Magical Islands were released. On Psychic Island, Rootitoot was discovered; on Faerie Island, Ziggurab was discovered; on Bone Island, Thrumble was discovered; and on Light Island, Sooza was discovered. Then, 3.4.0 saw the release of Amber Island, which confirmed that all of the remaining Dawn of Fire-exclusive fire monsters would be coming to the main game, the first of which being Yelmut, followed by Flum Ox, and so on…
Magical Monsters
A class of Monsters associated with one or more certain elements being Psychic (

), Faerie (

), Bone (

), and/or Light (

), and they inhabit a Magical Island that allows Monsters with any of these elements exist. As with Fire Monsters, they are harder to breed and take longer to hatch than common Natural Monsters, possibly due to them only recently having established contact.
The Magical class can be seen as dominant over the Natural and Fire classes since Monsters with elements from both belong to the Magical class.
Ethereal Monsters
     Main Article: Ethereal Monsters
A class of Monsters with their own unique qualities and their own island, Ethereal Island. Each Ethereal is associated with one or two of the five elements: Plasma (
), Shadow (
), Mech (

), Crystal (
), and/or Poison (
). The Single Element Ethereal Monsters obtained by breeding a Triple Element Monster with a Quad Element Monster on the Natural/Mirror Islands. These monsters are hard to acquire since there is only about a 1% chance per try of breeding them on the Natural/Mirror Islands. It is also very difficult to successfully breed Double Element Ethereal Monsters, which are only found on Ethereal Island. Like Natural Monsters, each "parent" gives a certain element in the gene pool for the "child", which only works on Ethereal Island.
Seasonal Monsters
     Main Article: Seasonal Monsters
A class of limited time Monsters and they are only available to buy or breed during specific times of the year (except on Seasonal Shanty where they're available year-round). These Monsters manifest one of fourteen different elements which go along with the fourteen seasonal holidays observed in MSM:
Seasonal Monsters are considered more difficult to obtain than Quad Element Monsters but not as difficult to obtain as Single Element Ethereal Monsters. Seasonal Monsters can be acquired outside of their specific season either on Seasonal Shanty or through Out of Season Events. The 5 "core seasonals" can also be obtained through the monster scratch ticket, which is available in the nursery once per week on the Natural Islands, though it is very rare to get one this way.
These Monsters were once called "Limited Time Monsters", then "Special Edition Monsters". As of the v1.2.5 update, the developers changed the class from "Special Edition" to "Seasonal" in their information.
Dipsters
     Main Article: Dipsters
Monsters that sing single notes as they pop out of their holes in the ground. They can be bought in the Market with Keys. These Monsters do not take up any beds and can be bought on any Natural Island (i.e. Plant, Cold, Air, Water, Earth Islands), their respective Mirror Island, both Fire Islands, and Ethereal Island for a certain amount of keys. Only ten of each type of Dipster can be purchased per island.
These monsters used to not have any element to represent them, but this changed in June 2017 when they were all given the same one: the "Dipster" (
) element.
Legendary Monsters
     Main Article: Legendary Monsters
A special class of Monsters, all of which manifest one element, Legendary (

) and divided into two groups: Shugafam and Werdos. These Monsters have their own unique qualities; for example, each Shugafam has its own special guitar or drums and a special hat, while the Werdos are the only Monsters in-game that can tell a story in their lyrics. Like the Ethereal Monsters, the Shugafam also have their own Island, Shugabush Island. These Monsters must be bred from a Shugabush (apart from the Shugabush itself), which is very hard to breed. They are still not as hard to obtain as the Ethereal Monsters. The Werdos cannot be bred but may be obtained for 100 Relics each.
Mythical Monsters
Vita Exclusive Monsters were only available on Playstation Vita devices and were later added on mobile devices. These Monsters manifest one element, Mythical (

). Currently, only two of these Monsters exist, Plant Island G'joob and Air Island Yawstich, but in a new event: Month of the Mythical, a new mythical will be created by the community themselves for Cold Island. In addition, Mythical Monsters are included on the official class list. They were exclusive to the PS Vita version only, not accessible to everyone until the PS Vita was discontinued and the Mythicals were added on mobile devices and are now accessible to everyone.
Supernatural Monsters
     Main Article: Supernatural Monsters
A special class that includes twenty species: the Wubbox and the Wublins, and all of them manifest one element, Electricity (

). The Wubbox and the Wublins do not follow the same rules as the other monsters; they must be activated by placing other Monsters inside them. They cannot be bred. Instead, they must be bought from the Market. All of the Wublins are located on their own island, Wublin Island, but the Wubbox is only found on the Natural Islands/their respective Mirror Islands, Wublin Island , Gold Island and Ethereal Island. Its Rare counterpart can be found on the Natural Islands/their respective Mirror Islands, Ethereal island and Gold Island. The Wubbox on Ethereal Island is part of the exclusive Superethereal class due to requiring Ethereal Monsters to be boxed in. Its rare counterpart is a Rare Superethereal due to requiring Rarethereals to be boxed in.
Celestials
     Main Article: Celestials
An ancient, special class of Monsters that (similar to the Wublins) are dormant, and only wake up when fed enough eggs. The dormant Celestial statues can be bought from the Market for diamonds (

) on Celestial Island only. There is a limit on 5 of each type of Celestial.
Rare Monsters
     Main Article: Rare Monsters
The special counterparts of the Common Monsters in My Singing Monsters. Similar to their Common version, these Monsters have the same song and animation (except the Rare Wubbox), elemental type, breeding combination, and general size. Compared to Common Monsters, Rare Monsters have longer breeding times, have different Likes, and they generate more Coins/Shards. In addition, Rares comprise only one class. To illustrate, Rare Seasonal Monsters and Rare Natural Monsters are not two separate classes, rather they are both part of the same class, "Rare."
As of the 2.0.0 Update, Rare Monsters are no longer always available for purchase in the StarShop on the Natural Islands. According to the MSM Facebook page, the availability of Rares in the StarShop was reduced in order to "preserve their special status and the challenged involved in collecting them."[1]
Since October 5th, 2016, Rare Natural Monsters are put on a rotational basis every Wednesday through a Daily Deal called a Rares Duet. This allows two particular Rare Natural Monsters to be available for purchase in the StarShop for a limited amount of time.
Epic Monsters
     Main Article: Epic Monsters
Similar to Rare Monsters, Epic Monsters are counterparts to the Natural and Seasonal monsters in My Singing Monsters. Just as with Rares, Epics can only be bought or bred during limited time events. Unlike Rares, Epics cannot be used for breeding, and have different breeding combinations
Breeding
     Main Article: Breeding

Many special classes of Monsters cannot be bred, but only bought from the Shop (Wubbox and Wublins for

, Celestials for

, Werdos and Kayna for

, Dipsters for

) or StarShop (Rare Wubbox for

).
Natural, Ethereal, Seasonal, Spectral, Mythical and Shugafam monsters are all obtainable through breeding in addition to buying.
The Breeding page contains a quick reference for breeding monsters.
Visit the Breeding Structure page for some discussion on which combination is "best".
When choosing which monsters to breed, it does not matter which monster is on the left or right column.
Eggs
     Main Article: Eggs

Each Monster, excluding the Wublins, Celestials, and Dipsters, have their own unique Egg, so even in egg form, it can be identified. Rares and Epics have their own egg designs now as well as the retained certain effect to the shell, almost like a shine. Epic Monsters have binds and a radiant glow around the egg.
Feeding Monsters
     Main Article: Feeding

A Monster's level increases every four meals it is fed, up to a maximum of twenty levels. (Food can be made in a Bakery.) When a Monster's level increases, so do the number of coins it earns per minute, the maximum amount of coins it can hold, and the amount of food necessary for each of its meals. It also gets bigger within its space(s) on the island, at levels 4, 10, and 15. At level 4, it can be used for breeding. Reaching level 15 will allow a monster to be placed on Gold Island, or sent to Ethereal Island or Shugabush Island, depending on the Monster.
Likes
     Main Article: Likes

Each Monster, excluding the Wublins, has at least four different things that they like on each island. For every unique object that they like that is placed near them, that monster's happiness will increase by 25%. Placing two of the same item near a monster will still only increase its happiness by 25%. How quickly Monsters earn coins is based on their Happiness.
Normally, for something to increase a Monster's happiness, the two objects must be placed side by side. However, purchasing a Unity Tree from the Market (available at level 16) will allow decorations and monsters to be placed anywhere on an island, including into Storage or a Hotel, without affecting the Monster's happiness level.
There is a list of which Monsters like what items on each island. There is also a list of which decorations are liked by each Monster.
Notes
If one could use real-world science to study monsters, all Natural Monsters would be the same species. This happens because, biologically, only monsters of the same species are able to breed and almost always produce a fertile offspring (another Natural Monster).

Rare Monsters would be of the same species as Natural ones: they would be, as expected, variants of their common counterparts, much like dog or cat breeds.
Ethereal and Legendary Monsters come from dimensions parallel to the Monster World, so science isn't able to explain them at all.

In order to send secret messages to players, BBB uses an English-based language called Monstrous, which is implied, according to in-game lore, to be invented by the Monsters themselves.
The monster with the longest name which isn't a Rare, Epic, or Prismatic monster is Gobbleygourd with 12 characters, while the monsters with the shortest name are all Dipsters except Sol, with only two characters.
As of now, in the original game, the only one letter a monster's name doesn't start with is I.

However, Incisaur, the only monster whose name starts with an I, is exclusive to Dawn of Fire.

In pages lost to time, the Monster-handlers would introduce new Monsters via Meet the Monsters graphics on the official website and on social media. New Monsters are now typically teased on social media and in-game, with full reveals following.
To find out who voiced a given vocal Monsters (Monsters who make sound using their voice), see the Voice Actors page.