General Merchandise
merchandise
have been released, including tops, hoodies, necklaces, and phone cases; most have a selection of colors to choose from. There was also a vinyl version of the soundtrack available for a limited time.
Commonwealth Toys Plushes
More plushes have been stated to come and as of now we know this will include Noggin, Toe Jammer, Yool, Bowgart, and other monsters as shown in a My Singing Monsters livestream.

PlayMonster Merchandise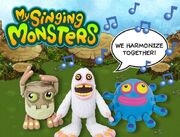 The first wave of PlayMonster merchandise is slated to release in fall 2019. "The multi-year agreement covers figures, playsets, games, and accessories". So far, in the Plant Island series of toys, the Mammot, Noggin, Toe Jammer, Maw, Furcorn, and Entbrat have been released. According to MSM Live #45 (57:30), the Drumpler, Fwog, Pummel, Tawkerr, and Potbelly are planned to be released soon.
PlayMonster has also released a line of Dawn of Fire toys. The first series includes baby PomPom, Potbelly, Mammot, Maw, Toe Jammer, Dandioo, Furcorn, and Flowah.
Single-Pack Musical Figures
Single-Pack Spooktacle Musical Figures
Triple-Pack Musical Figures
Fanwraps Merchandise
Fanwraps merchandise will include "a line of automotive products, home decor, collectibles, and electronic accessories".
Phone Cases
iPhone 5 and later iPhones are supported. Other phone versions are available too.
Discontinued Merchandise
Notes
Community content is available under
CC-BY-SA
unless otherwise noted.