This is the main article for Magical Islands. For the category, see Category:Magical Islands.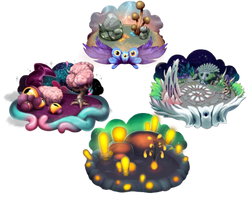 The Magical Islands consist of five Islands in My Singing Monsters: Light Island, Psychic Island, Faerie Island, Bone Island, and Magical Sanctum. They get their names from the Magical Elements with their associated Monsters. All islands require Fire Haven to be purchased.
The first four of these islands are parallel to the Outer Islands in My Singing Monsters: Dawn of Fire; Light Island as Party Island, Psychic Island as Space Island, Faerie Island as Cloud Island, and Bone Island as Cave Island. Magical Sanctum was only discovered after the Dawn of Fire.
About
Each Magical Island (excluding Magical Sanctum) contains a set of two naturals, a Magical Monster, and Kayna; Light Island has Potbelly, Mammott, Kayna, and Fluoress; Psychic Island has Potbelly, Toe Jammer, Kayna, and Theremind; Faerie Island has Noggin, Mammott, Kayna, and Floot Fly; Bone Island has: Noggin, Toe Jammer, Kayna, and Clackula.
Magical Sanctum is different compared to the other four, having all four Single Element Magical Monsters, those being Fluoress, Theremind, Floot Fly, and Clackula.
The prices for the Magical Islands are:
Indigenous Monsters
All Magical Monsters are found on all 5 of these islands.
Monsters not on the islands are:
Trivia
Tweedle is the only Single Element Natural Monster not to appear in any of the Magical Islands, thus they all lack Air Elementals.
Magical Sanctum is the only Magical Island located in the Pocket Dimension.