The login screen, also known by a variety of other names, such as the startup screen and the loading screen, is the screen that appears at the start of My Singing Monsters and Dawn of Fire when starting up the game. They can change depending on the current version or due to special occasions, such as a seasonal event or the release of a new feature in the game.
Login screens have also been known to tease upcoming content. In the case of My Singing Monsters, this includes (as of Feb. '22):
The seasonal login screens from 2016-17 teasing the Rare Seasonals
The seasonal login screens from 2018-19 teasing the Epic Seasonals

The upcoming content teased for Dawn of Fire in its login screens includes (as of Aug. '20):
The 1.5.0 login screen teasing Barrb
The 1.7.0 login screen teasing the first six Celestials
The 1.15.0 log-in screen teasing Doose (before it was scrapped)
My Singing Monsters
This section is incomplete. You can help by adding more images of past login screens sorted by history.
Steam version
Tips
The tips shown on the login screen for My Singing Monsters and My Singing Monsters: Dawn of Fire vary randomly upon logging in.
Main article: Tips
My Singing Monsters: Dawn of Fire
Notes
SummerSong 2018 doesn't have its own startup screen due to Celestials startup screen-filling instead.
The Eggstravaganza 2019 loading screen was accidentally put into the early game on March 20th, a couple of weeks before it should've come out. Although, it was immediately removed until its official update.
The loading screen in the 1.19.0 update for Dawn of Fire has a reference to Rare Cybop's in-game description.
The Dawn of Fire 1.15.1 loading screen shows a scrapped monster, the Doose. It can be seen on one of the cliffs of Air Lands.
Dawn of Fire's 1.7.0-1.9.0 screen is the only one featuring monsters' silouhettes (The celestials).
Currently, the only areas in Dawn of Fire without any loading screen representing them is Waterlands, Earthlands, Space Island, and the actual island of Starhenge.

It is unlikely that we will ever see a loading screen showing Starhenge itself, as the island has been fully complete as of July 2017, and there are no signs of any update relating to it in the near future.

Notes on aspect ratio with common example ratio example images: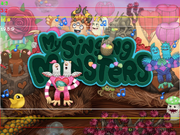 Up until version 2.3.9, the main login screen was optimized for 4:3 devices such as the Apple iPad Mini 2. This aspect ratio makes it impossible to see specific features along the top/bottom of the login screen in wider ratios, such as the Epic Riff teaser as seen on the 2019 Spooktacle login screen or the Epic Drumpler teaser as seen on the 2020 Season of Love login screen.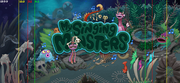 As of version 2.3.9, the main login screen is optimized for widescreen 19.5:9 aspect ratio devices such as the Apple iPhone X, XR, XS, and XS Max. This aspect ratio makes it impossible to see specific features along the left/right edge of the login screen in narrow ratios, such as Fwog and the Bone Island Critter as seen on the 2.3.9 release login screen.
The new default loading screen now has G'Joob, Ti, Tawkerr, & Scargo.
In the MSM 2.4.1 update, the login screen teases Rare Barrb and Rare Glowl, supposedly. Something purple can be seen in the Vegidian Castle and something that looks something like a Glowl flying in the sky.
The Login Screen for After Spooktacle 2020 is the same login screen For when Light Island was released (without the balloons, fireworks, streamers, and the 8 indent on the S)