This is the main article for Gold Island. For the category, see Category:Gold Island.
| | | |
| --- | --- | --- |
| " | It's every singing monster's dream to one day vacation on the glorious Gold Island. Only the most experienced (and well-fed) among them ever get the opportunity to join in its resounding anthem, which celebrates monsters and music of all kinds! | " |
About
Gold Island is the culmination of the five Natural Islands, allowing all monsters found on those islands containing a Natural Element, the Supernatural Element, the Legendary Element (however, Werdos are not included), or a Seasonal Element to come together and sing. Gold Island is available at level 6 for free, after purchasing Cold Island. Only level 15+ monsters from the Natural Islands may be placed on it.
Gold Island is also accessible at level 6 without any purchase in the Apple, Android and PC versions of the game. It was first released on November 27, 2012.
Gold Island exists in a different dimension from the Natural Islands, which is what enables the monsters to inhabit both their own native island as well as Gold Island. A monster's species, and its name, is the same on both islands because it is the same monster. Selling a monster on their native island will remove it from Gold Island as well. Any monster boxed on their 'home' island, or Teleported to the Colossingum, Seasonal Shanty, or Shugabush Island, will also be removed from Gold Island.
Indigenous Monsters
The list of indigenous monsters is below with each monster's class indicated in parenthesis.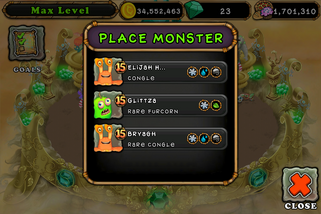 Most monsters can be placed on Gold Island once they reach level 15. These include:
The excluded monsters are:
Monsters which are in a Hotel Structure on their home island can also be placed on Gold Island. Even if these monsters are in the Hotel and inactive, they will be active and perform on Gold Island.
When monsters are placed, they remain on their 'home' island, still generating coins there unless they are placed into a Wubbox, in which case they are permanently removed from both Gold Island and their home island. Monsters on Gold island do not generate coins on the island, nor do they require decorations or feeding. They just sing.
Monsters on this island can be muted and are able to have their volumes changed as any other island. Monsters that are Biggified on their home island will appear biggified here as well. If a monster is boxed, sold, or teleported on its home island, it will disappear from Gold Island.
Rocks and Trees
     Main Article: Obstacles
There are no rocks and trees to clear on Gold Island. No obstacles can be bought from the Market, as the Decorations and Structures section cannot be accessed.
Music
The full Gold Island song is available on iTunes for download. The melody of the Gold Island's song is based on Johann Pachelbel's Canon in D in a large portion of the first chord progression.
Going along with this theme, the main melody in the beginning section of the Gold Island song is in the key of D Major. As the song progresses, the song's key later switches to E Minor. It resets after the E Minor progression back to D Major. The song plays at 140 BPM, in the 4/4 time signature.
Castle Upgrades
There is only one type of castle, the Crystal Castle, which has unlimited beds.
Castle Image
Castle
Beds

Crystal Castle

"Although shaped like a castle, this mysterious structure actually serves as the main power generator in the monster dimension of the multiverse!  It's from here that monsters derive their musical inspiration, as well as their tireless energy so that they can keep singing forever!"

Unlimited
Strategy
Special Occasions
During the Anniversary Month, which is the month of September, Gold Island is adorned with Anniversary decorations, as well has having its middle crown increasing its number every year on its anniversary.
For 2014, the Anniversary celebration was from September 4th to October 6th. Originally, it would have ended on September 30th, but the Version 1.3.0 Update was delayed and caused the celebration to end later.
For 2015, the Anniversary celebration was from September 4th to September 30th.
For 2016, the Anniversary celebration was from September 1st to October 1st.
For 2017, the Anniversary celebration was from August 30th to October 2nd.
For 2018, the Anniversary celebration was from September 1st to October 1st.
For 2019, the Anniversary celebration was from August 30th to October 1st.
For 2020, the Anniversary celebration was from August 28th to October 7th
Notes
Some monsters have different timing from other monsters such as the PomPom and Hoola.
Gold Island was launched in the Version 1.1.0 Update on November 27th, 2012.
The Market can be accessed on Gold Island with a glitch involving using an ad with the market button, however placing structures or decorations will not be final, as when you reload the island the decorations and structures will be missing.

The Currency section of the market can be accessed by tapping the currency bars.

Golden depictions of the Fire Bush and the Dragoon Statue are noticeable as part of Gold Island, as well as a golden statue of a Barbloo playing a harp.
The Crystal Castle, like the Castle on the Shugabush Island, does not produce a bass sound. While on Shugabush Island it is due to Shugabass, there is no given reason for Gold Island. This is likely due to the fact that the castle cannot be upgraded on Gold Island which is a condition for the castle to make a bass sound.
Once an active Wubbox is removed from Gold Island and re-placed again, the Wubbox in the waiting list goes back to the dormant stage of its life. This also happens with Rare Wubbox.
Goals do not apply to placing Seasonals or the Shugabush on Gold Island, so there is no reward for placing these monsters on the island. However, placing Rare Monsters will only reward whatever its common counterpart reward is and it will not reward anything if its common counterpart already had been placed on Gold Island.
Level 15 Ethereals, Shugafam, Mythicals, Rarethereals, Dipsters, Werdos, Magicals, Fire Monsters, Fire Rare Monsters, or Monsters that are not in the Natural Islands will show up on the placing list, but grayed out (disabled).  If you try anyway, the game will give a message that the monster cannot be placed on Gold Island. Naturals and Rare Naturals on Shugabush Island at Level 15 will not show up at all on the placing list due to conflicts of inter-dimensional magic.
This island is one of few that doesn't have a page in the Fabled Book of Monsters.
Gold Island has 108 Monsters, the most of any island due to having all the Natural and Seasonal Monsters (except Gobbleygourd and Jam Boree) and all their Rare and Epic variants.
Technically, the maximum number of beds on Gold Island is 2,253, assuming you place a Clamble in each of the 751 grid spaces, although it isn't possible to have this many Clambles on Plant and Earth Island, even if you include Mirror Plant and Mirror Earth Island.