Time is warped negatively


The information in the article is outdated. Please help by updating the article by adding information related to the article's matter.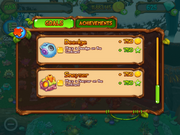 Like the original My Singing Monsters, its prequel, Dawn of Fire has Goals, which are tasks that are meant to introduce the game's features to new players.
Like the original game, Goals reward players with various Currency (coins, diamonds...), the amount of which depends on the difficulty of the Goal.
Also like their predecessors, Goal rewards are not awarded automatically, but must be manually collected in the Goals menu, which is located on the top left of the screen.
The game starts with Kayna and Noggin on the Continent. Stogg and Mammott are added during the tutorial in Level 1 so there are no placement goals for these four monsters. They do however have Teleport goals. Subsequent placements of Kayna, Noggin, Stogg and Mammott on the Continent will provide a reward of Coins and XP, but of an unknown amount.
The Goals list appears upon reaching level two, and also gives access to the Achievements tab. Also take note that above the Goals list are Daily Goals, Crafting Item crafting and/or selling goals that when completed gain new goals the day after completion.
Known Goals
Monster Goals
Goal name and objectives
Level requirement
Other requirement
Reward

Teleport Noggin

Get Noggin to level 5
Teleport Noggin to Party or Space Island

?
Feed a Noggin
5

Teleport Mammott

Get Mammott to level 5
Teleport Mammott to Party or Cave Island

?
Feed a Mammott
20

Teleport Kayna

Get Kayna to level 5
Teleport Kayna to Party or Cave Island

?
Feed a Kayna
20

Toe Jammer

5
nil
150

150

Teleport Toe Jammer

Get Toe Jammer to level 10
Teleport Toe Jammer to Space Island

5
Feed a Toe Jammer
5

Potbelly

7
nil
150

150

Teleport Potbelly

Get Potbelly to level 10
Teleport Potbelly to Space Island

7
Feed a Potbelly
5

Tweedle

9
nil
150

150

Teleport Tweedle

Get Tweedle to level 15
Teleport Tweedle to Cloud Island

9
Feed a Tweedle
10

Drumpler

3
nil
25

50

Teleport Drumpler

Get Drumpler to level 10
Teleport Drumpler to Space Island

3
Feed a Drumpler
10

Fwog

Place a Fwog on the Continent

5
nil
300

300

Teleport Fwog

Get Fwog to level 20
Teleport Fwog to Cave Island

5
Feed a Fwog
40

Maw

Place a Maw on the Continent

5
nil
300

300

Teleport Maw

Get Maw to level 5
Teleport Maw to Party Island

5
Feed a Maw
5

Furcorn

7
nil
275

275

Teleport Furcorn

Get Furcorn to level 5
Teleport Furcorn to Party or Space Island

7
Feed a Furcorn
5

Oaktopus

7
nil
225

225

Teleport Oaktopus

Get Oaktopus to level 5
Teleport Oaktopus to Party or Cloud Island

7
Feed a Oaktopus
5

Quibble

9
nil
275

275

Teleport Quibble

Get Quibble to level 5
Teleport Quibble to Party or Cave Island

9
Feed a Quibble
5

Pummel

Place a Pummel on the Continent

7
nil
425

425

Teleport Pummel

Get Pummel to level 10
Teleport Pummel to Space Island

7
Feed a Pummel
15

Bowgart

7
nil
425

425

Teleport Bowgart

Get Bowgart to level 10
Teleport Bowgart to Space or Cave Island

7
Feed a Bowgart
15

PomPom

Place a PomPom on the Continent

9
nil
425

425

Teleport PomPom

Get PomPom to level 5
Teleport PomPom to Party, Space or Cloud Island

9
Feed a PomPom
15

Teleport Stogg

Get Stogg to level 5
Teleport Stogg to Party or Space Island

1
Feed a Stogg
10

Boskus

Place a Boskus on the Continent

3
nil
25

50

Teleport Boskus

Get Boskus to level 15
Teleport Boskus to Cloud Island

3
Feed a Boskus
20

Phangler

5
nil
300

300

Teleport Phangler

Get Phangler to level 15
Teleport Phangler to Cloud Island

5
Feed a Phangler
20

Flowah

Place a Flowah on the Continent

7
nil
275

275

Teleport Flowah

Get Flowah to level 10
Teleport Flowah to Space or Cave Island

7
Feed a Flowah
10

Cybop

Place a Cybop on the Continent

9
nil
425

425

Teleport Cybop

Get Cybop to level 10
Teleport Cybop to Space Island

9
Feed a Cybop
?

Glowl

Place a Glowl on the Continent

9
nil
275

275

Teleport Glowl

Get Glowl to level 20
Teleport Glowl to Cave Island

9
Feed a Glowl
40

Ziggurab

3
nil
425

850

Teleport Ziggurab

Get Ziggurab to level 5
Teleport Ziggurab to Party or Cloud Island

3
Feed a Ziggurab
30

Thrumble

5
nil
400

400

Teleport Thrumble

Get Thrumble to level 15
Teleport Thrumble to Cloud Island

5
Feed a Thrumble
30

Sooza

Place a Sooza on the Continent

7
nil
275

275

Teleport Sooza

Get Sooza to level 10
Teleport Sooza to Space Island

7
Feed a Sooza
15

Rootitoot

7
nil
425

425

Teleport Rootitoot

Get Rootitoot to level 10
Teleport Rootitoot to Space Island

?
Feed a Rootitoot
15

Congle

Place a Congle on the Continent

9
nil
425

425

Teleport Congle

Get Congle to level 10
Teleport Congle to Space Island

9
Feed a Congle
?

Woolabee

9
nil
425

425

Teleport Woolabee

Get Woolabee to level 15
Teleport Woolabee to Cloud Island

?
Feed a Woolabee
30

Whaddle

9
nil
425

425

Teleport Whaddle

Get Whaddle to level 15
Teleport Whaddle to Cloud Island

9
Feed a Whaddle
30

Floogull

9
nil
425

425

Teleport Floogull

Get Floogull to level 20
Teleport Floogull to Cave Island

9
Feed a Floogull
60

Repatillo

7
nil
425

425

Teleport Repatillo

Get Repatillo to level 10
Teleport Repatillo to Space Island

7
Feed a Repatillo
15

Shellbeat

9
nil
750

750

Teleport Shellbeat

Get Shellbeat to level 15
Teleport Shellbeat to Cloud or Cave Island

9
Feed a Shellbeat
40

Flum Ox

9
nil
750

750

Teleport Flum Ox

Get Flum Ox to level 15
Teleport Flum Ox to Cloud Island

9
Feed a Flum Ox
40

Dandidoo

9
nil
275

275

Teleport Dandidoo

Get Dandidoo to level 15
Teleport Dandidoo to Cloud Island

9
Feed a Dandidoo
20

Yelmut

Place a Yelmut on the Continent

9
nil
750

750

Teleport Yelmut

Get Yelmut to level 20
Teleport Yelmut to Cave Island

9
Feed a Yelmut
80
Entbrat
7
nil
750

750

Teleport Entbrat

Get Entbrat to level 15
Teleport Entbrat to Cloud Island

7
Feed a Entbrat
?
Incisaur
7
nil
750

750

Teleport Incisaur

Get Incisaur to level 15
Teleport Insicaur to Cloud Island

7
Feed an Incisaur
?

Bisonorus

9
nil
750

750

Teleport Bisonorus

Get Bisonorus to level 20
Teleport BIsonorus to Cave Island

9
Feed a Bisonorus
80
Tiawa

Place a Tiawa on the Continent

7
nil
750

750

Teleport Tiawa

Get Tiawa to level 15
Teleport Tiawa to Cloud Island

7
Feed a Tiawa
?
Candelavra
9
nil
1100

1100

Teleport Candelavra

Get Candelavra to level 5
Teleport Candelavra to Party or Space Island

9
Feed a Candelavra
80
Drummidary
9
nil
1100

1100

Teleport Drummidary

Get Drummidary to level 15
Teleport Drummidary to Cloud Island

9
Feed a Drummidary
?

Krillby

9
nil
750

750

Teleport Krillby

Get Krillby to level 15
Teleport Krillby to Cloud or Cave Island

9
Feed a Krillby
?

Quarrister

9
nil
750

750

Teleport Quarrister

Get Quarrister to level 5
Teleport Quarrister to Party Island

?
Feed a Quarrister
5
Other Goals
Goal name and objectives
Level requirement
Other requirement
Reward

Mishmash

Place a Masher  on the Continent

2

Tree Fellin'

2
25

50

Food for Tot

Feed a Mammott 3 Times
Get a Mammott to Level 4

2
Place a Mammott

Big Apple

Grow 2 Apples
Mash 1 Apple Sauce

2
Place a Fruit Tree and a Masher
50

100

King of the Castle

Find 1 hidden Crystal
Upgrade your Castle

2

Bigger Apple

3
Complete Big Apple
100

200

Garden

3
75

150

Tart of the Matter




Place a Bakery on the Continent
Bake 2 Apple Tarts

4
125

250

Magical Fruit

Grow 3 Coconuts
Grow 5 Apples

4
100

100

Extra Extra

Read the latest news on the Bulletin Board

4
25

50

Fun and Names

4
25

50

Point of View

Check out the View Mode in the bottom left corner

4

It's Not Butter

Grow 4 Coconuts
Mash 2 Coconut Butters

5
200

200

Sticks and Stones

Remove 4 Trees
Remove 2 Rock Piles

5
Complete Tree Fellin'
300

300

Bamboo? Can Do!

Place a Bog
Grow 3 Bamboo

6
nil
125

125

Flute Force

Place a Workshop on the Continent
Craft 2 Bamboo Flutes

7
300

300

Juice Up

Place a Juicer on the Continent
Make 2 Apple Juices

8
325

325

Jeweler

Place a Jeweler on the Continent
Craft 1 Polished Vegidian Crystal

8
750

750

Gut the Coconut

Grow 6 Coconuts
Make 2 Coconut Milks

9
Complete Juice Up
300

300

Brave the Cave

Send a Monster into the Wondermine
Retrieve an item from the Wondermine

9
1

Fresh from the Oven

Bake 3 Cookies
Craft 1 Gingerbread House

10
1000

1000

Slime a Dozen

10
nil
3

The Ice is Right

11

Icy Treats

Make 2 Tropical Slimes
Bake 2 Apple Ice Pops

12
Place an Ice Machine
1250

1250

Gloom and Musroom

Retrieve 3 Mushrooms from the Wondermine

12
nil
275

275

Cook Out

Place a Cooking Pot on the Continent
Cook 2 Coconut Cheeses

13
nil
1750

1750

Big Cheese

Cook 2 Coconut Cheeses
Cook 2 Cactus Cheesecakes

24
Complete Cook Out
3000

3000

Branch Out

Place another Fruit Tree on the Continent

2
Buy the first Fruit Tree
200

200

A Mashing Pair

Place another Masher on the Continent

2
Save up 110 Diamonds to purchase
100

Room to Grow

?
Save up 110 Diamonds to purchase
75

Deep Freeze

?
Save up 150 Diamonds to purchase
50

Bogged Down

Place another Masher on the Continent

?
Save up 130 Diamonds to purchase
50

Shake It Up

Place another Juicer on the Continent

2
Save up 140 Diamonds to purchase
50

Save it for Ladle

2
Save up 150 Diamonds to purchase
50

Flour Power

Place another Bakery on the Continent

2
Save up 120 Diamonds to purchase
50

Nailed it

2
Save up 130 Diamonds to purchase
50