Baby Bio:
| | | |
| --- | --- | --- |
| " | Flowahs are tough and thorny. Even with sufficient watering, they appear a tad droopy. Their grumpy appearance is misleading: tickle a teeny Flowah toe and it will burst into uncontrollable giggles. | " |
Adult Bio:
| | | |
| --- | --- | --- |
| " | More thorns, more muscle, more grouch: that's what big Flowahs are made of. This grizzled old weed is as gentle as a dove on the inside, and will beam with joy at any expression of affection. | " |
Description
Flowah is a Monster available in Dawn of Fire. It contains the elements of Fire and Plant. It has a sunflower for a head and two-toed feet. It also has two cute blue eyes. Its adult form is more muscular and sports thorns that occasionally extend from their shoulders while it's singing. Its adult form has darker petals and a scar across its right eye, and its eyes are gray-blue.
Song
Voice actor: Unknown
On the Continent, the Flowahs sing "Hoo gaga hoo ga. Hoo gaga hoo, Hoo gaga hoo ga, hoo gaga hoo!"
In Space Island, they sing: "Hoo! Ka chu! Hoo ka chu ka, hoo ka chu, hoo ka chu!".
In Cave Island, the Flowah sings the same song in Space Island, but in a deeper tone.
Breeding
A Flowah can be bred with a combination of Plant and Fire. Possible combinations include:
Teleportation
Flowah can be teleported to Space Island when fed to Level 10 for a reward of 3 diamonds, or it can be teleported to Cave Island when fed to Level 20 for a reward of 5 diamonds. Teleport time for Flowah is 10 hours.
Name Origin
The name is a play on "Flower" due to the fact that they are a Flower-like Monster. Hence it would be logical that the name is pronounced as "flower" with the "ah" for the "er" syllable, not pronounced as Flow-ah.
Notes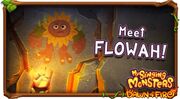 One of the possible names for the Flowah, Surya, means "Sunlight" in Indonesian.
In the code, Flowah is called "Flowah", being the only Fire monster to have its code name the same as its gameplay name.
Community content is available under
CC-BY-SA
unless otherwise noted.