Diamond Farming (also known as Diamond Optimization) is a set of strategies used to maximize the production of Diamonds.
For as long as My Singing Monsters has existed, Diamonds have been the main premium currency of the game, and the most important resource. Players have strived to obtain Diamonds in the most optimal way, employing the use of Mines, Daily Rewards, Wublin & Celestial Farms, Tribal Islands, and the Shard Exchange.
Mines
175 per week
Continuous collection from each island's Mini-Mines and/or Maximum-Mines: the oldest and most basic method of farming Diamonds. This is a simple method that takes minimal effort besides scheduling time.
Ensure you consistently collect Diamonds from each island's Mine as fast as possible and as consistently as possible. Avoid collecting any other currencies (besides Diamonds) before continuing any other gameplay, so as to avoid inconsistent earnings.
Mini Mines
Each Mini-Mine produces 1
every 24 hours. As long as Mini-Mines have been bought on all Main Islands, this strategy provides 14
per day. With the addition of Mirror Islands, this is brought up to 19
per day, though this is often done late game, as the Mirror Islands cost 1500 Diamonds to unlock.
Maximum-Mines
For those players who have made an in-app purchase at any point in time, Mini-Mines may be upgraded to Maximum-Mines (on Plant Island, as well as Mirror Plant Island) to quadruple production. Each Maximum-Mine yields 2
every 12 hours, bringing the Mine total to 25
per day.
Rewards
25 per week
The Daily Login Bonus and Spin Wheel are by far the simplest methods to earn Diamonds.
Daily Login Bonus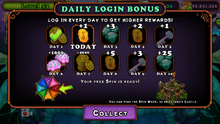 The Daily Login Bonus will reward players who login once a day for several consecutive days. The reward gets bigger every day for 10 days, then the cycle repeats: rewarding 28
per cycle.
| Day 1 | Day 2 | Day 3 | Day 4 | Day 5 |
| --- | --- | --- | --- | --- |
| ~ | 1 | 3 | 2 | 1 |
| Day 6 | Day 7 | Day 8 | Day 9 | Day 10 |
| ~ | ~ | 5 | 3 | 25 |
Spin Wheel
The Spin Wheel is a minigame that can be accessed once per day via the Castle. Each spin can lead to 11 equally likely prizes, or a Grand Prize. The odds of generating Diamonds are seen below:
Reward
%
% total
Avg. per spin
250-1000
Unknown

8.21%
0.78
100
0.27%
25
1.53%
2
6.40%
These odds ultimately give an average of 5.46
per week [or 10.92 if you use ads to spin again (mobile only)], assuming the player spins every day.
Wublin Farming
214 per week
Wublin Farming is a mid-to-late-game method used to generate Diamonds.
Because all Wublins and the Wubbox generate the same amount of income, maximizing income is simply a question of fitting as many Wublins as possible on the island. This naturally limits the selection to Zynth and Thwok as they have the smallest footprints. Zynth is recommended, as it is easier to awaken.
The optimal pattern, allowing a total of 109 Wublins is shown below:
Every 6 to 12 hours, the Wublins have a 7% chance to generate 2
(as opposed to Treats, Coins, or Shards), yielding an average of 0.14
per collection. This means that at 2 collections a day, with a total of 109 Wublins, roughly 30.5
per day will be generated.
Taking income generation into consideration, island design can be difficult to master when trying to make a great Wublin Island - an island that has great income is not necessarily the best-looking island, so you may choose to make trade-offs between income, and aesthetics. For more alternative island layouts, view the Grid Planning Page. Visit Zynth Farming to learn how to start your farm.
Celestial Farming
118 per week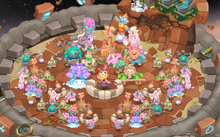 Celestial Farming is an advanced, late-game method to generate Diamonds.
There are 12 Celestials, and there can be 5 of each on the island, leaving a total of 60 Celestials. Thankfully, these 60 monsters fit easily within the island, so there is no advanced Grid Planning necessary to create the optimal Celestial Farm (unlike Wublin Farming).
However, Celestials cost a significant amount of Diamonds to purchase (roughly 120 Diamonds each on average), so Celestial Farming should only be performed after most other methods of Diamond Optimization have already been used. Each Celestial goes on sale (20% off) for one month per year, corresponding to their respective Zodiac Sign, so they should only be purchased during this timeframe. Due to their cost, it can take a significant amount of time for Celestial Farming to break even:
Celestials generate currency at the same rate as Wublins: they have a 7% chance to generate 2
every 6-12 hours, leading to 16.8
per day.
Tribal Island
20 per week
The Tribal Island is a simple method for mid-game players to generate Diamonds each week, without requiring very much planning. There are a number of Tribal Islands to join, which can be reached via the Tribe Contacts Page.
When a Tribe member feeds their monster to a higher level (using Coins, Treats, or Shards), the overall level of the Island increases as well. Each Tribal Island has its own Goals that can be achieved in return for Diamonds:
| 30 | 50 | 100 | 150 | 300 |
| --- | --- | --- | --- | --- |
| 2 | 1 | 1 | 1 | 1 |
| 450 | 600 | 750 | 1000 | 1500 |
| 1 | 1 | 2 | 5 | 5 |
A full, level 1500 Tribal Island generates 20
each week.
Because the cost to feed a Monster increases quadratically for each Level, it becomes very expensive very quickly to feed a Monster using Coins or Treats. Therefore, Shards are recommended instead. 
The most effective method for an island to reach level 1500 is to have: a full 30 players, contributing 50 levels each. This enables each player to spend the minimum amount of currency to feed their Monster, allowing leftover Shards to be used in Shard Exchange. Using this method, each player only needs 45,300
per week (an amount that can be easily generated by just 12 Ethereals).
Shard Exchange
27 per week
The final, most late-game method of Diamond generation is through utilizing the Shard Exchange. When accessing the currency menu on Ethereal Island, it is possible to exchange 30,000
for 1
.
The goal of the Shard Exchange, therefore, becomes: producing as many Shards as possible. Out of all monsters on Ethereal Island, the Rare Reebro, Rare Jeeode, and Rare Humbug generate the most Shards per bed, maximizing Shard production. Dipsters also generate Shards and do not require beds; up to 70 Dipsters may be placed, though they cost a whopping 7
each on Ethereal Island.
Assuming the player has all 400 beds filled with 80 Rarethereals, has placed all 70 Dipsters, has fed all Monsters to Level 20 with a happiness of 100%, and checks in three times a day: it is possible to generate 814,380
per week.
Although the Shard Exchange is technically possible, it is incredibly inefficient, yielding only an additional 27
a week. Despite this, many late-game players often create Shard farmable Ethereal Islands as a sign of wealth, or instead to fuel higher level Tribal Islands.
Offer Wall
Only available in the Mobile versions of the game
The Offer Wall is a third party component in My Singing Monsters that rewards you with Currency for tasks performed. It can be accessed through the Market. Previously using the TapJoy service, since version 2.4.2 the Fyber service is used.
By default it will be set to provide you with Diamonds as rewards, though you can switch the reward to Coins or Treats by going to the Currency section and scrolling through the Currency options there; though it's almost always more beneficial to get Diamond rewards instead as Diamonds can be exchanged for Coins at a better rate (at 49,600
/
, compared to most offers equivalent of about 9,091
/
) in the Market itself, and those Coins can then be used to Bake Treats if needed (offers set to reward Treats having an even worse rate of about 363
/
).
The Offer Wall has many different types of offers, depending on platform (Android or iOS) these may include online surveys and quizzes, installing apps, reaching certain goals in apps, purchasing subscriptions, and so on.
One specific type of offer can be used as an easy way to gain additional Diamonds for fairly little expense in either time or money; "Make a purchase" offers. Often these offers can reward you with hundreds of Diamonds for any purchase amount in an app, which can be an attractive alternative to purchasing Diamonds in-game as often 'any purchase amount' can be as low as $0.99, making these a much better option than using the in-game in app purchase options.
Note: Because the Offer Wall is a third party service acting as a gateway to other third parties, you should read through the offer carefully and decide whether or not it is worth doing. The aforementioned "Make a purchase" offer types, while attractive, may at times involve downloading an app that wants a lot of information from you. Only you can decide whether giving that information / any permissions is a something you are okay with.
Other lucrative offers are the "reach a goal" offers, typically offered for games, and largely only available on Android. Some of these offers may reward thousands of Diamonds for reaching a goal. These goals can range from relatively simple to nearly impossible (especially when they must be done within a given amount of time). Look for strategy guides online before starting such an offer to make sure you can reach that goal as you will often be required to use the app actively.
Reward multiplier events
Several times per year, the rewards in the Offer Wall are multiplied (typically doubled), and it's worth waiting for such events for some of the higher-paying rewards (at the risk that the offer will not be available at the time of the event). An offer started during such an event will still pay out the multiplied reward even after the event is over. Other