For the Dawn of Fire feature, see Daily Login Game.
The Daily Login Bonus is a feature added in Version 1.2.9 that gives a reward every day when you play. The reward gets bigger every day for 10 days, then the cycle repeats. However, if you miss a day (specifically not logging on between 0:00 UTC and 0:00 UTC timespan), the cycle starts over from the beginning. The rewards only start on the second consecutive day logged on.
Rewards
Version 2.1.8 and later
The cycle has increased to 10 days and offers greater rewards. There are two different cycles for rewards that split at Level 10(?) with the unlocking of Keys and Dipsters.
Also, if the daily streak is broken, the player may choose to continue the streak for 4
. Just like in earlier updates, the daily streak count increments upwards after every 0:00 UTC passed, unless a day was missed or if Day 10 had passed (which would start back at Day 1).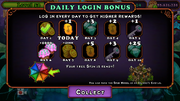 Reward cycle before Level 10(?)
| Day 1 | Day 2 | Day 3 | Day 4 | Day 5 |
| --- | --- | --- | --- | --- |
| ~ | ~ | 2 | ~ | ~ |
| Day 6 | Day 7 | Day 8 | Day 9 | Day 10 |
| 3 | ~ | ~ | 5 | 5 |
| Day | Reward | Level 1 | Level 2 | Level 3 | Level 4 | Level 5 | Level 6 | Level 7 | Level 8 | Level 9 | Level 10 |
| --- | --- | --- | --- | --- | --- | --- | --- | --- | --- | --- | --- |
| 1 | | | | | 100 | | | | | | |
| 2 | | | | | 100 | | | | | | |
| 4 | | | | | 250 | | | | | | |
| 5 | | | | | 250 | | | | | | |
| 7 | | | | | 500 | | | | | | |
| 8 | | | | | 500 | | | | | | |
Reward cycle on or after Level 10(?)
| Day 1 | Day 2 | Day 3 | Day 4 | Day 5 |
| --- | --- | --- | --- | --- |
| ~ | 1 | 3 | 2 | 1 |
| Day 6 | Day 7 | Day 8 | Day 9 | Day 10 |
| ~ | ~ | 5 | 3 | 25 |
| Day | Reward | Level 10 | Level 11 | Level 12 | Level 13 | Level 14 | Level 15 | Level 16 | Level 17 | Level 18 | Level 19 | Level 20 | Level 21 | Level 22 | Level 23 | Level 24 | Level 25 | Level 26 | Level 27 | Level 28 | Level 29 | Level 30 | Level 31 | Level 32 | Level 33 | Level 34 | Level 35 | Level 36 | Level 37 | Level 38 | Level 39 | Level 40 | Level 41 | Level 42 | Level 43 | Level 44 | Level 45 | Level 46 | Level 47 | Level 48 | Level 49 | Level 50 | Level 51 | Level 52 | Level 53 | Level 54 | Level 55 | Level 56 | Level 57 | Level 58 | Level 59 | Level 60 | Level 61 | Level 62 | Level 63 | Level 64 | Level 65 | Level 66 | Level 67 | Level 68 | Level 69 | Level 70 | Level 71 | Level 72 | Level 73 | Level 74 | Level 75 |
| --- | --- | --- | --- | --- | --- | --- | --- | --- | --- | --- | --- | --- | --- | --- | --- | --- | --- | --- | --- | --- | --- | --- | --- | --- | --- | --- | --- | --- | --- | --- | --- | --- | --- | --- | --- | --- | --- | --- | --- | --- | --- | --- | --- | --- | --- | --- | --- | --- | --- | --- | --- | --- | --- | --- | --- | --- | --- | --- | --- | --- | --- | --- | --- | --- | --- | --- | --- |
| 1 | | ? | 300? | 400? | 500? | 600? | | | | | | | | | | | | | | | | | | | | | | 2500 | 2600 | 2700 | 2800 | 2900 | 3000 | 3100 | 3200 | 3300 | 3400 | | | | | | | | | | | | | 4500 | 4600 | | | | | | | | | | | | | | | | 6100 |
| 6 | | ? | 100 | 200 | 200 | 200? | | | | | | | | | | | | | | | | | | | | | | 600 | 700 | 700 | 700 | 700 | 700 | 800 | 800 | 800 | 800 | | | | | | | | | | | | | 1100 | 1100 | | | | | | | | | | | | | | | | 1400 |
| 7 | | ? | 300 | 400 | 500 | 600 | | | | | | | | | | | | | | | | | | | | | | 2500 | 2600 | 2700 | 2800 | 2900 | 3000 | 3100 | 3200 | 3300 | 3400 | | | | | | | | | | | | | 4500 | 4600 | | | | | | | | | | | | | | | | 6100 |
Version 2.0.4 to Version 2.1.7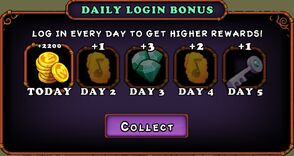 Day
Reward
1
200+
(depends on level)
2
1
3
3
4
2
5
1
Version 1.2.9 to Version 2.0.4
| Day | Reward |
| --- | --- |
| 1 | 200 |
| 2 | 1 |
| 3 | 300 |
| 4 | 500 |
| 5 | 3 |
Notes