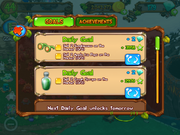 Daily Goals are goals in Dawn of Fire that can optionally be completed, and when completed, new Daily Goals appear after 24 hours of completion. No time limit is required for completing such goals. They are unlocked at level 5. Daily Goals appear in green font and a silver box border.
Types of Daily Goals
Daily Goals include one or two criteria that require two of a certain type of Crafting Items to be crafted or sold per criterion. All of the criteria of a Daily Goal has to be met to earn the reward by following the criteria listed in the Daily Goal. Fulfilling Daily Goals will give XP, as well as coins or diamonds. If the amount of XP reward is greater than 2000

, the Daily Goal will reward 2 diamonds regardless of amount of XP earned.
Notes
The player can reset a Daily Goal for the price of 1000. This feature was added in the 1.5.0 update. Waiting for 5 minutes or so will bring in a new Daily Goal for the player to do.

This article is a

stub

.
You can help My Singing Monsters Wiki by

expanding it

.