Different Monsters take different times to breed in a Breeding Structure or Incubate in a Nursery.
Permanent upgrades to these Structures to Enhanced Breeding Structure and Enhanced Nursery further affect these times, as can Island Skins. You can also speed up these processes yourself with speed-ups:
Structure/Item time effect
Standard Breeding
Enhanced Breeding
Standard Nursery
Enhanced Nursery
-25%
-25%
Island Skin:


Vegetable Medley
Sweti Settlement
Gigacheep Nest
Temple of Hahoo

-10%
-35%
Speed-up with 1/hour

(including partial hours

i.e. 00:01:00:01 = 2)

-100%
-100%
-100%
-100%
Speed-up by facebook Friends
-33% of total time
-33% of total time
-33% of total time
-33% of total time
Speed-up with video 🎞️
15 minute reduction
15 minute reduction
15 minute reduction
15 minute reduction
If you are unsure of what Monster you Bred, try looking up the closest matching time in the table below, sorted from shortest to longest time.
All Breeding times are listed using the following in-game format:
days:hours:minutes:seconds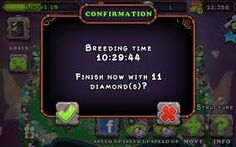 Notes
Many Monsters have the same times, but for most of them you can think logically to tell them apart. A time of 8 hours could be a Pango, but if you're on Plant Island that's obviously not it. You can also follow the link to the Monster's article to see if the combination you actually used could result in that Monster, or visit the Breeding Tables article to find the parent Monsters and their possible resulting Monster.
Other Monsters can't be told apart at all, such as the Shugafam on Shugabush Island, or in events where a combination can result in two Monsters that share the same times. An example would be a Rare event where both Rare Noggin and Rare Mammott may result from Clamble + T-Rox.
Community content is available under
CC-BY-SA
unless otherwise noted.