| | | |
| --- | --- | --- |
| " | This superb statue celebrates the five Quad-element Monsters that call the Natural Islands home. Nicknamed 'The Bosses', these dynamic figures serve as role models to the other monsters, and epitomize the cooperative power of harmony. | " |
The Boss Monument is a decoration available from the StarShop for 1,250
(starpower).
Description
The Boss Monument is a montage of the five Quad Element Monsters, sculpted in gold. The Entbrat is either tossing upwards, or reaching up towards, a five-pointed star which hangs suspended over the main part of the statue. The other four Quad-element Monsters surround the Entbrat in their directions with happy gestures. The Deedge and Riff are partially visible in their front view, while the Shellbeat's side view is partially visible, while the Quarrister is facing back towards the Entbrat.
Monsters Who Like It
The following monsters will have their happiness increased by 25% when near one of these.
See the Likes page to view a complete list of all Monsters' likes.
Notes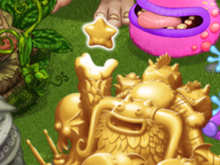 The star appears to be animated to spin in a 3D-esque manner. This is because many 2D games, such as My Singing Monsters, aren't capable of actual three-dimensional rendering.
The star on the top of the monument seems to have a pair of buttocks when it turns around.
The Deedge's second row of ice cubes and the Shellbeat's drums are missing.
All Epic Quad Monsters like the Boss Monument.