Transporting to a new permanent home...
The following article is about something that has been removed from DoF until further notice.
Please only edit this article if you have played DoF while this was included.
Apple x5 is first and only variation of a Crafting Item, being a variation of Apple in that it produces 5 Apples per slot. 5 Apples from the Apple 5x has a market price of 55 - 91

. It is unlocked at Level 3, unlocked at the same level as Grain. It is the third item of the game. However, Apple x5 was removed from the game with the introduction of Version 2.0.0.
Description
The Crafting Item Apple x5 is similar to just one Apple, a red apple with a green leaf. However, there's a box in the top-right corner that reads "x5". Appearance-wise, this is the only difference distinguishing Apple and Apple x5, however, the single gameplay difference between the two is that Apple 5x is simply a 5x version of Apple.
Notes
Apple x5 was one of the most recent items added to the game, added in 1.8.0. The others are Polished Stonyx Crystal and Carved Stonyx Crystal.

However Apple x5 is the only removed item in the whole of DoF, being removed in 2.0.0.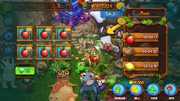 It is possible to still have usable Apple x5 slots stored in a Fruit Tree leading to Version 2.0.0, but one must add Apple x5 slots prior to Version 2.0.0 and then update in order to reach that state.
Community content is available under
CC-BY-SA
unless otherwise noted.